Powder Coating Solutions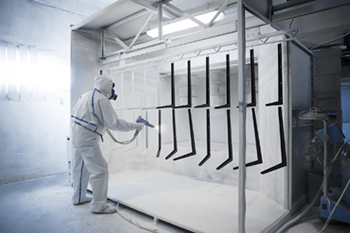 Batchglow provide a compressive selection of powder coated solutions, these include:
Epoxy
Fusion Bonded
Nylon
Polyester
Polymer
As the region's leading service provider, Batchglow is perfectly positioned to satisfy the needs of the corporate, industrial and residential sectors.
Following the receipt of an enquiry, technical experts run through all available options with a client. The reason for this is simple, at Batchglow it's vitally important to apply the most suitable and effective coatings to all items. This can only be achieved by working through all the available options. All coatings have individual characteristics.
In the North of England Batchglow have become synonymous with powder coating services, this has been achieved through the provision of excellence over a prolonged period of time. Large organisations are happy to entrust important orders because they are assured of an excellent service.
If test pieces are required they can be booked by calling the Helpdesk on 01909 563051.
Powder coating solutions are often needed in quick time, this is covered by the Companies Fast Track Service. (Please note, availability is not always guaranteed)
For more details on Batchglow's powder coated solutions simply call 01909 563051 or utilise the website forms. All enquiries are dealt with in a professional and timely manner.