MDF COATING FOR BESPOKE FURNITURE
From specialist desks and furniture for recording studios to regular office partitioning, we can offer our services. Machining of the parts can be almost limitless, no need for edge banding and the associated edges seams, therefore no square edges and potential for delimitation and pealing.
The image shows a recording studio, the customer requested a low sheen textured finish, which would be tactile and durable. Batchglow was able to source the exact colour and finish required the desks, which are irregular, shaped and have sculptured edges and corners would of caused numerous issues when using a traditional finishing system. This would not be achievable with powder coating
Conventional bespoke furniture can also be processed and treated, whether you're looking for a specific colour or finish, we can supply most things: With our specialist mixing and matching service we are able to produce a powder coated finish to an exact colour reference or even to a sample.
Custom book cases.
Table tops.
Bedroom furniture
Office furniture
School furniture
Cabinets
Cupboard doors
Chair components
Stools.
All can be coated, all we need is the parts manufactured in panel form from good quality MDF. Moisture resistant, Fire retardant boards as well as conventional dense routering board are all ideal for our process.
A custom colourful book case for a private client.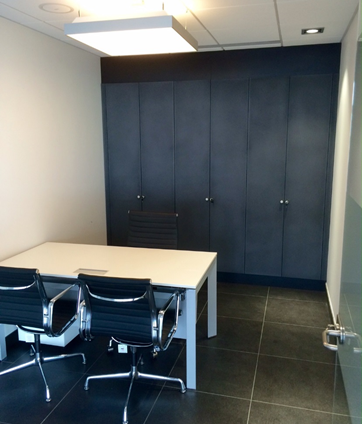 Custom cabinet doors for a car dealership
Desk tops and furniture for 'Jaguar Land Rover Ltd'