Powder Coated Solutions for Cabinet & Kitchen Doors
Batchglow are supplying an amazing service to cabinet and kitchen door manufacturers.
Through their vast experience in powder coating solutions the company are offering a new service that is growing in popularity. Batchglow's powder coated cabinet and kitchen door solutions are available in a vast array of colours and finishes.
Other benefits include:
Environmentally friendly
Fire resistant
Hardwearing
Durable
VOC free
Batchglow utilise a proven method of coating intricate surfaces, this means all shapes and sizes are catered for. If required an anti-bacterial finish can also be applied.
By completely sealing a component it will increase the shelf life, this means a professional look and feel will be constantly maintained.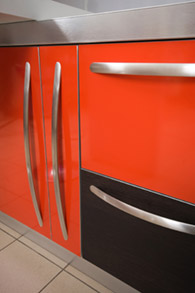 Blue chip companies utilise the services of Batchglow because they are assured of a professional service and prompt delivery. If you require an order in quick time please call 01909 563051 to discuss the Fast Track service.
The list of available colours is almost limitless, they include:
RAL
British Standard
Pantones
In addition the company also provide metallic and speciality finishes.
If you require more information on Batchglow's cabinet and kitchen door solutions please call 01909 563051. Alternatively you can email info@batchglow.co.uk/sales@mdfcoaters.co.uk.